The 2011 Australian Open is upon us and this could be a big one for the history books. Only one man has held all four Slams in the Open era. Rafael Nadal now bids to become the second.
The only man who's done it in the Open era is widely regarded as one of the best tennis players ever to pick up a racket. I'm naturally talking about the great Rod Laver, who won a Calendar Slam twice, once as an amateur in 1962 and then again as pro in 1969 against the very best players of the era.
To be clear, the 1969 Grand Slam is far more impressive than the 1962. As Laver himself has acknowledged, in 1962 the best players like Pancho Gonzales, Lew Hoad and Ken Rosewall had already turned pro, so he had an easier time piling up the Slams. Over the course of the 60s though, he proved it was no fluke as he dominated the field from 1964 culminating in his 1969 Grand Slam.
Before proceeding to our current contender, Rafael Nadal, let's take a look at which other legends came close.
Who Came Close?
Other legends have come close over the years, but the fact that no one has won it is testament to how hard a feat it is.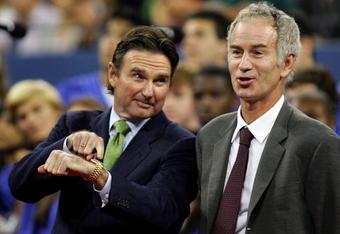 Al Bello/Getty Images
Jimmy Connors came close in his famous 1974 season in which he won every one of the Slams, except the French from which he was banned. He would have been the favourite had he been allowed entry. Instead Björn Borg won his maiden Slam just after turning 18 and only a couple of weeks after winning his first title of significance, the Italian Open.
Fast forward ten years and you have John McEnroe in one of the best tennis seasons ever, winning 82 matches and losing only three. One of them being the French Open final to Ivan Lendl after leading him two sets to love, the worst loss of McEnroe's career. He did not, as far as I recall, venture to the Australian Open, but did enjoy one of the most successful tennis seasons ever none the less.
Four years later, in 1988, Wilander come close to winning all four in a season, but fell in the Wimbledon quarters to Mecir.
Another of the all time tennis greats had the opportunity of pulling a non-calendar Slam, same as Rafa has now, when Pete Sampras won Wimbledon, the US Open and the Australian Open over the course of 1993-94. Sampras though, was never the greatest clay-courter and fell to Jim Courier in the quarters after a tight four setter.
Had Agassi pulled a Wimbledon upset against Sampras in the 1999 final
—
and continued to win the US and the Australian Open as he did, he would have had it.
The fact that so many greats came close but didn't reach the finish line is testimony to how hard an accomplishment it is.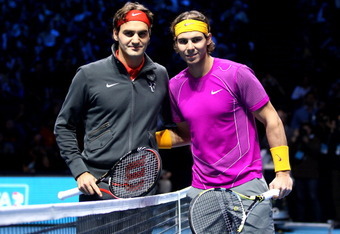 Julian Finney/Getty Images
No one came closer than the man with the most Slams in men's tennis,
Roger Federer
.
Had he won a French Open title in 2004, 2005, 2006 or 2007 and, presuming the rest of his results would have been the same, he would have had a Calendar Grand Slam (had he won anytime but in 2005). Whether his subsequent run would have been different after a French Open triumph is, as with Agassi and Wilander, of course a matter of speculation.
However, in the 2006 and 2007 French Open finals against Rafael Nadal, he would have had the non-calendar Slam that Rafa himself now stands on the brink of taking.
Contrary to popular perception, Federer had his chances and neither of their French Open matches in 2005-2007 were lopsided, especially not compared to the 2008 thrashing. Rafa won all three of them in four sets, winning 10-15 points more than Federer per match (53-47 in percentage). Especially the 2007 one can be said to be a case of Federer not capitalizing on his chances, converting a mere one out of 17 break points as opposed to Rafa's four out of 10.
Nevertheless, the bottom line is that the great Rafa prevented the great Roger from doing the near impossible in men's tennis three times in a row.
Rafa's Chance of Immortality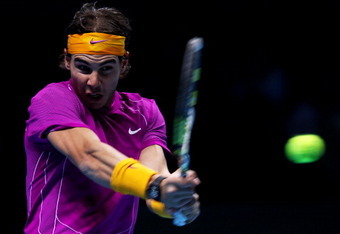 Clive Brunskill/Getty Images
Every casual fan knows Rod Laver, not everyone knows his contemporary rival Ken Rosewall or the monster of the 50s, Pancho Gonzales. The reason? Well, mainly because of Laver's double Calendar Grand Slam, which put him in uncharted waters where no other man has gone in the Open era and only Don Budge has gone before him.
As we've seen, many greats have come close, but none have accomplished the feat.
To be sure, Rafa winning four in a row is not the same as a Calendar Grand Slam. In Laver's own words, it is not a Grand Slam, just four in a row.
The pressure would be different if it was four in a calendar year, building up from Wimbledon. There would be no offseason in between. Nevertheless, I think it is safe to say that winning four consecutive Slams in today's worldwide competition on three different surfaces (Laver won three of his on grass and one on clay) is every bit as impressive as Laver winning four in a calendar year in a time where the competition was less intense.
It is different, of course. But not a lesser accomplishment.
So, what are Rafa's chances of succeeding in his near impossible quest?
Pretty good. As opposed to Roger (possibly except 2005?), Pete, Andre and Wilander, Rafa is at the very least a co-favourite at this tournament. Having won the last 21 GS matches he has played including seven on the fast hard courts at Flushing Meadows, he stands a very good chance of succeeding. The high bouncing, relatively slow hard courts in Melbourne should suit his game perfectly well.
There is no question, that Rafael Nadal has the skills to pull of the Rafa Slam. Question is, will he prevail?

Yes

No

Yes, beating Federer in the final

No, losing to Federer in the final
If it hadn't been for his mild flu last week, most commentators would put their bets on him.
In fact, most of the old legends do, including McEnroe, Agassi, Wilander and Lendl. And shouldn't we count their opinions for more than say a Steve Tignor (Federer) or a Peter Bodo (Söderling). I think we should.
Both Federer and Nadal have been handed relatively favourable draws and should proceed to the semis, where we can expect Nadal-Murray/Söderling and Federer-Djokovic showdowns.
It would only be fitting if both of them proceed and meet in the finals in the battle of titans. Federer would get a chance of repeating the favour: preventing Nadal from winning four consecutive Slams and thus avenge himself against the younger contender and, not to forget, widen the Grand Slam gap between them.
This would be the ironic scenario.
Nadal would have the chance of finishing his streak against the greatest competition one can possible face thereby adding extra spice and value to his Rafa Slam.
This would be the historic scenario.
If he succeeds, his name, as that of Laver's, will forever be connected to the Rafa Slam.
Oh, and let's not forget that the French Open comes next...
Courtesy:
BleacherReport