World No. 2 and 10-time Grand Slam champion Rafael Nadal is reported to be considering a
life-changing
decision, writes the
Daily Express.
The
Express
quotes Rafa saying:
"You never know what is in the future. The time has now come when I can say more to him than I have done previously. I'm not kidding when I say that from now on I will answer him back because I have more opinions than I had before."

"If other people outside my family said to me what he says, then it would be very difficult to keep working together. Also he has three kids, and sometimes he gets tired of travelling. So far I've been happy with how I've played this year, but not with my matches against Djokovic. He's my motivation to play better."

What are we to make of it? Is Nadal seriously considering to move away from the man, who's got him to where he is? Or is the
Express
merely making the most out of some ambiguous Rafa words?
On the one hand, this would be the time to try something new. Physically speaking, Rafa is still very much in his prime and should be able to remain there for another couple of years. However, as Rafa himself has admitted, world No. 1 Novak Djokovic presents a riddle for which he hasn't yet found the answer.
Uncle Tony and Nadal have had half a year including two slam finals to come up with a winning tactic against the better version of Djokovic, but Nadal has come up short every time they've met, losing 14 of the last 18 sets.
Though Nadal has had a fantastic season by almost any standards—who wouldn't be happy winning three tournaments, making nine finals, winning a slam and losing two others in the final? It is still a drop compared to his stellar 2010 and 2008 seasons.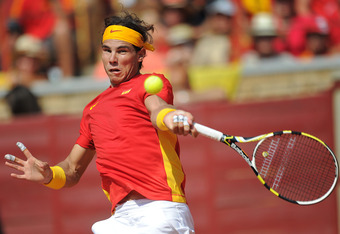 Jasper Juinen/Getty Images
As his 2009 results were influenced by injuries and family problems, this is the first time Nadal is experiencing a non-injury related tennis setback.
One could argue that his 2005 was better than 2006. On the other hand, in 2006 he made the
Wimbledon
final and started shedding the image as a pure clay-courter).
Given that Nadal is Nadal and wants to continuously improve his game and be good enough to give himself the chance to win everything he enters, it is not completely far-fetched if he is indeed contemplating bringing in a new perspective.
Nor is it far-fetched if Uncle Tony would prefer to stay more at home with his kids.
On the other hand, Nadal is very much a family man, who enjoys the comfort and the safety of working with people whom he completely trust. The Nadal-Uncle Tony relation is one of the most successful partnerships in tennis history.
Because of this, I'm reluctant to believe that he will indeed part with Uncle Tony until something more substantial than a few hints is on the table.
That said, he could still consider bringing in an outside voice to supplement Uncle Tony and help him and the team solve the Djokovic riddle.
Meanwhile, Nadal himself has set things straight on the court with two dominating Davis Cup wins and now Spain will once again be the big favourite to bring home the title in December, when they meet Argentina on Spanish turf.
Courtesy:
BleacherReport
Original Story
Here