Courtesy:
Bleacher Report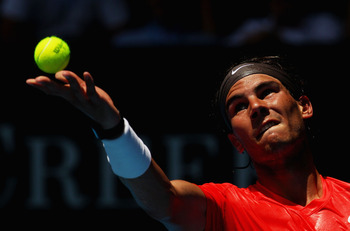 Scott Barbour/Getty Images
Every player or team in any sport has a window of opportunity. Whether we're talking about team sports like the NFL, soccer (a.k.a football) and baseball or lone athlete sports like tennis, the window of opportunity is often short.
The span of a tennis player's career is dependent on many factors, but barring any career-ending injuries, the ages between 22 and 27 is considered to be their prime. It's the window in which they have the best chance
to mark their career for greatness and win the titles that mean the most; that means the slams.
It's the point in their career when everything comes together. Their fitness, mental fortitude, work ethic and overall game on the court is at its absolute zenith. In short it's the time in which they are most capable of succeeding at the game's highest level.
Rafael Nadal is no different. The one difference is that he's been winning slam titles since a few days after he turned 19. That head start, plus the continual maturation of his game and the fact that he is currently sitting in the middle of the best years of his career at 24, means that this year is by far the most important of his career.
Some might think that last year was, but they are wrong. Last year was important because it allowed him to get back to the player he was a year earlier, when he was unquestionably at the top of his game. Together with Federer's dipping form, Nadal mercilessly destroyed everyone in his path and became a better player in the process. He also completed the career grand slam, but it still isn't the most important year in his career.
Here are 7 reasons why this year is so important
#1 -
Novak & Andy are catching up
#2 -
The next great champion is coming
#3 -
A remedy for the knees
#4 -
Momentum
#5 -
Zenith of his career
#6 -
A legacy in progress
#7 -
A run at the Slam record