Can Rafael Nadal win four slams next year?
I know how that question sounds, but come on! Is this question as ludicrous as it sounds? Well, he did win three slams this year, didn't he? So, expecting him to win a few more slams next year is not so over the top, is it? But can this "few more" be the lucky No. 4? That is the question.
Prediction is not such an easy thing to do. After all, Steve Tignor, otherwise a very talented tennis writer, has lately acquired a notorious reputation of jinxing the players. Mats Wilander has been making a joke of himself since time immemorial. And let us not forget Simon Reed. Legend has it that whoever Reed picks up to win a tournament is doomed for sure.
But McEnroe is in real form these days. He seems to be getting most of the predictions spot on (which wasn't the case a while back). After all, he is one of the few people who picked up Rafa to win Wimbledon and the US Open—so ingenious of McEnroe to pick the world No. 1 to win a tournament—and he won!
And now, McEnroe says he would go with Rafa again to win every slam next year until proved otherwise. His argument is that Nadal is the toughest player to beat right now in a five-set match in a grand slam on any surface, on any given day—the guy is an animal.
So, is the question—can Rafael Nadal win four slams next year—still as ridiculous as it sounds? Yes, it is (sorry Johnny). After all, how long has it been since a player won four slams in a calendar year? Only 41 years!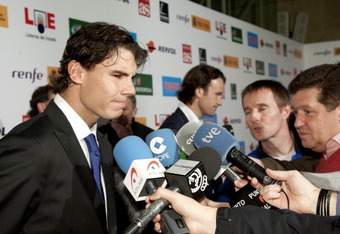 So, can Nadal do what he stopped Federer twice from achieving? In other words, can he win a calendar slam (may be it is now Federer's turn to be the party pooper, but who knows)?
According to Navratilova, the French Open is pretty much a "gimme" for Nadal. I concur with that assessment but then I am reminded of those strange out-of-this-world occurrences in that fourth round match of the French Open '09, after which Nadal skipped Wimbledon to recuperate from his knee injuries. When he came back, he became a punching bag for all the top-10 players for as many as 10 months!
But then, I am forced to ask this question: Isn't Rafael Nadal smart? In other words, is Rafael Nadal, who knows what ramifications that loss had on his rest of the season, such a fool to let that happen again (yes, you heard me right)?
I mean, he must have learnt his lessons from 2009. After all, isn't expecting Nadal, when he is supposedly in his prime, not to win the French Open 2011 akin to asking the question, "Can the lightning strike twice?"
So, I guess betting on Rafael Nadal to win the French Open 2011 is pretty much a a safe bet and no, even Simon Reed can't do much about that.
But what about the Australian Open 2011? Almost everyone on the planet is aware of the fact that Rafael Nadal has the chance to be the first person since Rod Laver to win four slams in a row, which will take his slam tally into double digits and as a side effect a few more people will jump on the Rafael Nadal GOAT bandwagon.
Now, I am sure Rafa would be aware of that which is why, I believe, he would be such a tough player to beat at the Australian Open because he thrives on momentum and confidence.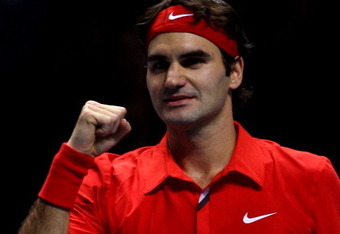 But, there is one more player who would be aware of all of this:
Roger Federer
. And make no mistake, he did beat Rafa in WTF London pretty convincingly. But the question is, can he do the same at next year's Australian Open?
After Federer's WTF win over Nadal, a lot of people now think that Federer has finally found the magical formula to beat Rafael Nadal, thereby adding an interesting twist to the dramatic matchup.
But has he really found it? Federer's topspin backhand worked really well on the low bouncing indoor hardcourt of the O2 arena, but will it work so well against Nadal in a grand slam final, in the comparatively higher bouncing concrete turf of Melbourne, in the presence of a bit of wind?
Will Federer's newly-found predilection to come to the net have much effect on Rafael Nadal's brilliant passing on the run and down the line shot-making skills?
As much as we are tempted to answer these questions in the affirmative, one can't deny that Nadal was not at his best throughout the WTF tournament (yes, even in that semifinal with Murray). In fact, I don't think Rafael Nadal can ever lose to Roger Federer in a grand slam final from here on.
As a matter of fact, I don't even think that Federer would be the biggest threat to Rafa at the Australian Open. Rather, it is going to be Andy Murray (don't laugh please!).
As Becker points out, Nadal has an "A" game and if that doesn't work out or if he can't produce it somehow, then he still has a "B" game or a "C" game, and so on (case in point: Wimbledon 2010 final).
But here is the thing. Nadal needs to play his "A" game if he meets Murray in Australian Open. He can't afford to play the way he did in that WTF semifinal and get away with it. Yes, Murray fizzles and chokes against Federer in a slam or on his way to a semifinal or a final but he seems to produce his best tennis against Nadal. So, if Nadal can get past Murray, he can get past pretty much anyone else.
In Wimbledon, the most important factor in Nadal's campaign will be how he plays in the earlier rounds. In fact, just like Bjorn Borg, Nadal finds it difficult initially to adjust on grass coming straight from two months of clay season, and just like Borg the first few rounds will be a struggle for him.
So, if Nadal can survive the first few rounds, there is no stopping him on grass. I don't see anyone beating him on grass if he can get past the earlier rounds. No, not even Roger Federer because that goes against my theory—Nadal can't be beaten in a grand slam final by Federer.
As far as US Open is concerned, well, there is not much sense in looking so far ahead. But again, as I said before, Nadal thrives on momentum and confidence and if he manages to win three slams preceding the US Open next year, then he has as much chance of winning the US Open as anyone else.
But this is one tournament where Roger Federer really has the potential to don the role of a party pooper just like Nadal played that role so successfully in French Open 2006 and 2007.
So, even though I still stand by my theory that Nadal can't be beaten by Federer in a grand slam final, this is one tournament where this theory can be proved wrong by Federer. But if Rafael Nadal gets back that dynamite serve of his (what happened to it by the way?), then all bets are off.
Now of course, one can argue that a lot of people were expecting Nadal to win the calendar slam in 2009 but look what happened? A sound argument indeed but I don't think Rafael Nadal will make the same mistake of overplaying in 2011 as he did post Australian Open '09, and I think he has learnt his lessons pretty well.
So, expecting him to win a few more slams next year is not so far-fetched at all. But can this "few more" be the lucky No. 4? That is the question.
Courtesy:
Bleacher Report