I have shied away from tackling the Greatest Of All Time (GOAT) debate for some time because:
1> I think it's been done to death.
2> It's gotten to be tiresome; there's little new under the sun to be said about the great Federer – Nadal rivalry.
3> It's the season end and just as the players are taking a well-deserved break , so should B/R writers take a rest from this acrimonious topic.
4> I feel the other players deserve some space and time devoted to them.
But since there seems to be no abatement of interest in the subject , let me try and take another dekko at the risk of seeming repetitive.
Frankly, the whole debate seems a bit unfair to Nadal. It's like looking at two students: one senior , the other a few years junior.One has graduated and post-graduated with honours and is doing a few extra courses just to round out his grades.The other has presented his half-term report; it is an excellent one, a fantastic one. He has outdone his senior in some respects and his trajectory has shown a sharper, upward curve.He's even taken on a few courses that his senior deigned to tackle much later.But yet there is the feeling of incompleteness, a feeling as though the elder statesman is the favoured one because the younger man is still a work in progress.
The elder Federer had taken the world by storm, completely eclipsing the accomplishments of his predecessors in the tennis school.It's as though the sport is now identified by Federer; the stature of both past and present players is judged against his luminescence.It's no longer about how Federer compares to the others; it's about how the others compare to Federer. That's undeniable.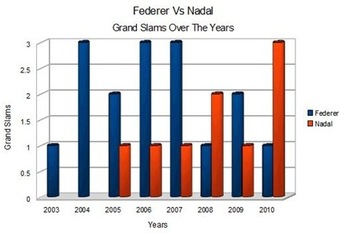 Let's take a retrospective look back at how Federer and Nadal have reached this point in their respective careers.
Federer won his first Grand Slam title in 2003. It was unlucky for Mark Philippoussis that it was a hungry
Federer that he met in the Wimbledon final.
Federer took his game to stratospheric levels the following year winning three of the four Slams on offer. The French Open was the only blemish in a near perfect year; he lost to Gustavo Kuerten in the third round. In hindsight, Federer will probably regret not taking his best chance for winning a French Open then. But he was not blessed (or cursed) with the gift of prescience.
Federer had an OK 2005 by his standards – losing to an inspired Safin in the Australian Open semi-final and to Nadal in the French Open semi-final. The Wimbledon and US Open titles were easily retained. Nadal won his first Grand Slam at the French Open. Patrick McEnroe had this to say about Nadal then : "Nadal is such a physical animal. Here's a kid who is 18 and he is built like a Mack truck. He has so much intensity, so much energy . . . I haven't seen a lefty hit an `off' forehand, that inside-out forehand, as well ever." Federer had seen the future in the emergence of the phenomenon from Mallorca. Rafael Nadal would be his nemesis in the years to come.
2006 and 2007 came and went and Federer went 6/8 in the Grand Slams. Nadal was dominant on the clay courts and was threatening to improve on other surfaces as well. Nadal was taking the fight to Federer challenging him twice in the Wimbledon finals. It took all of Federer's guile to stay the course. The French Open was deemed a lost cause even before the tourney began such was Nadal's superiority on the red courts.John McEnroe on the rivalry in 2007: "Nadal is making Federer a better player. That's all you can ask for in a rival. The best that could happen to their rivalry is what happened at Wimbledon on Sunday, with Federer winning." Sampras recognised that his record of 14 Grand Slams was under threat: "Records are meant to be broken. Roger's got all the tools. He's got the demeanour. I don't see anyone with a big enough weapon to hurt him. They're staying back and Roger is able to dictate. You just have to serve well and attack him."
Grand Slam Time Line: Federer Vs Nadal
2008 provided a glimpse of the surge from the challengers. Federer lost to Novak Djokovic in the Australian Open semis and succumbed again to Nadal at the French Open. Then the unthinkable happened. Nadal dethroned the king at Wimbledon in an epic encounter. In fading light, Federer surrendered to his untiring challenger. But Federer retained enough firepower to retain the US Open title at the season end.
2009 saw Nadal begin ominously clinching his first ever Australian Open. But the toil of the years had taken a toll on his weakened, shattered knees. At the French Open, Nadal lost for the first time in five years to Robin Soderling. Tendinitis in his knees forced him to opt out of Wimbledon. Federer used his misfortune and absence to gloss over his decline and captured his first and only French Open title equalling Pete Sampras' record of 14 Slams. He followed it up with another Wimbledon title pushing back a battling
Andy Roddick
in the final. It seemed he would make it his fourth three in a year but Argentine Del Potro had other ideas in the US Open final.
2010 saw Federer start the year with a bang annexing his 16th Grand Slam. He was now at the summit and it appeared that it would only be a matter of time before he clinched his 17th and 18th. But the return of Nadal , a much improved Nadal, a resurgent Nadal, a Nadal with a point to prove, a Nadal who recognised that this was his second coming, his second chance.There was no stopping the Spanish typhoon. He swept past all with an imperiousness reminiscent of Federer at his best. The Career Slam was his by such a wide margin that there was no doubt in anyone's mind that the Spanish ruffian was not content in resting in the shadow of the man whom he has dominated, reduced to tears and kept human when the others grovelled in abject subjugation.
Bjorn Borg: Quit when the quitting was good!
Each has been dominant in his own inimitable fashion. Their rivalry lit up the tennis courts reducing the rest to mere supporting cast. Neither content to rest on their laurels, neither intent on giving in.
If Federer is battling his mortality, Nadal seems to be battling himself. His scowling countenance is a statement of how unhappy he is with his level of play on the court rather than any dislike for his opponents. But as his uncle Tony tells him --- his 70 to 80 per cent is most times better than most players' 100 per cent.
The only doubt that lingers is about Nadal's longevity. Nadal flirts with danger with his robust style of play.His knees need to be injected every now and then to keep the bullish Nadal going.
If we were to take lessons from the past, who could we compare Nadal to?
I can think of three greats who spring to mind: Bjorn Borg, Boris Becker and Mats Wilander.
Bjorn Borg finished with 11 Slams, 6 French Open and 5 Wimbledon. He retired at 26 because he could no longer motivate himself to keep going.
Boris Becker won his first Slam, Wimbledon, at 17. He finished with six slams, three Wimbledon, two Australian Opens and one US Open. He too played with reckless abandon much like Nadal but with much less damage to his knees. He retired in 1999 at the age of 32.
Mats Wilander notoriously faded away after achieving three Slams in 1988. Only Wimbledon eluded him that year. His motivation disappeared after that fabulous year and he preferred strumming his guitar to continuing
on the court.
All three enjoyed success at an early age only for deja vu to set in.
Is Nadal destined to go the same way? Can he ration out his enthusiasm like his appearances this year? That is the million-dollar question.Else we will have more instances of Nadal losing early in a tournament saying : "I'm tired."It is good for tennis and Nadal that the 2010 season is almost at an end. Even a great has to rest sometime and who more than Nadal having won three Slams on the trot. The Importance Of Being Earnest at all times is highly overrated.
For those who keenly follow the the rankings, the year ending World Tour Final is the icing on the cake. For most others, victory at the Grand Slams is the sole arbiter of greatness. The Australian Open awaits them the following year.
The tennis will continue and these two greats will re-join battle soon.
Who is to say what 2011 will bring us and these two conquistadors?
Courtesy:
Bleacher Report