This tennis season has come to an end. We can hardly wait for the next to begin.
Nadal fans especially are eagerly awaiting the Australian Open 2011 where they expect their hero to make history by achieving the non-Calendar year Slam and go on to win the rest of the slam titles to complete a calendar slam and an unprecedented seven-in-a-row.
However, Roger fans, who have suffered the disappointments of a 3-in-a-row-slam-title-drought for their idol, have taken heart from his end of season performance. His win at WTF, defeating Nadal, has led them to hope to see him get back his number one ranking and lift a few more slam trophies, possibly dominate the tennis world as he had done till end of 2007.
Also hopeful are Djokovic fans. Djokovic was seen as a likely successor to
Roger Federer
after his astounding performances at age 20 at USO 2007 ( where although he lost to Federer in the finals, he revealed his enormous potential) and at AO 2008 (where he won his maiden slam). But he flattered to deceive or so it appeared when he seemed to suffer mysterious losses of energy at critical junctures and failed to win any more slams. He also seemed to make it a habit to lose to Federer in the USO semi-finals.
However, all that changed this year with his good performances at Wimbledon (where he made it to the semis) and his success in ousting Federer at the USO semi-finals. The young man certainly seems to have finally come of age.His fans expect him to win at least one slam, maybe at the AO or the USO and grab the number one ranking or at least firmly occupy the number two ranking by the end of the year.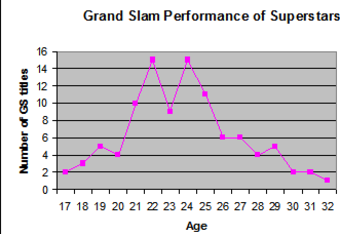 Andy Murray
fans have been cheered by his performance at AO( where he reached the finals ), at Wimbledon( semi-finals ) but more by his defeat of Federer in the finals of the Masters at Toronto and Shanghai( has he finally laid the ghost of Federer- in- the- finals?). His performance against Nadal in the WTF semis showcased his enormous talent. True, he still seems to be a headcase but given enough time this man is sure to deliver on his promise and so his fans hope he will win at least one slam next year, at the AO or at the USO. They also hope he will be ranked at least number 2 next year-end, if not number one.
What about Del Potro? He impressed many tennis watchers with the way he thrashed Nadal in the semis of USO 2009 and went on to lift the trophy from right under the the Swiss Maestro's nose. Many expect him to be the next number one. Even Federer stated that the young man had it in him to win more slams and has tipped him as a future number one.
So what are my predictions?
I have based my predictions on my studies of tennis superstars who have held the top 10 year-end ranking, who have held the number one year-end ranking (1973 and later) and more particularly super champions who have won at least 6 slam titles in the Open era.
The tennis superstars had their best performances between 21 and 27 with their peak performance being near or around 24. High performance was possible for some superstars at 28, 29 or 30 but there was a distinct drop after 30.
Age at year-end rank number one
All the superstars who won at least 6 slam titles, have held the number one ranking at least for a brief while between 23 and 25 and most of them had their best performances between these ages. All of them, except Agassi, Lendl and Connors, won most of their slams before 25 . Only Agassi and Lendl won more slams after 25. Connors won 4 before and 4 after 25.
Connors, Lendl, Agassi and Sampras won some slam titles at 29 or later. Connors :3 Lendl: 1; Agassi: 5; Sampras: 1
So Nadal, Djokovic and Murray who would be in the age bracket 23 to 25 during 2011, are likely to have an excellent chance of the best performances of their careers. Roger Federer unfortunately is 29 and will be 30 in August 2011.
Nadal, in 2011, would be 24 or 25 and therefore he would be in a period when Nature usually blesses a tennis superstar with peak physical condition. He will, in all probability, win at least two slams and most likely, three. Can he win all 4? This event is highly unlikely but not impossible. Should he get at least one good draw and be fit at all four slams, he definitely has a chance. But it is an outside chance.
Federer is at the age where few superstars have held number one ranking or won slams.So, it is unlikely that 2011 will be his best year. Will he win any slams? Did not Sampras and Agassi win slams after 29 and is not Federer playing at a high level? Yes to both questions. But there is an important difference between what Pete and Andre faced and what Federer is going to face in 2011 .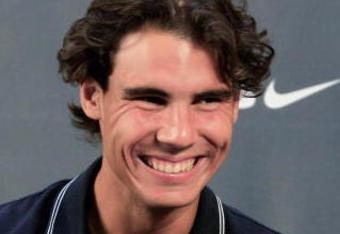 The years 2000 to 2003 are popularly known as the tween years because they fell between the decline of Sampras and the rise of Federer. In fact, in USO 2002, Sampras and Agassi between them were able to demolish all the opposition and Sampras exercised his winning edge against the older Agassi to lift the last GS trophy of his illustrious career.
Unfortunately for Roger, such a situation will not exist in 2011.
There will be Nadal, already a great, and in the prime of his playing life. There will be Djokovic and Murray also in their primes and enormously talented. Murray also enjoys a positive head to head with Federer.
They are joined by Soderling, Berdych and Del Potro who have already shown they can beat Federer in a Grand Slam match.
Federer on his day can get the measure of any of them. But can he last seven rounds in a Grand Slam tournament in the best-of-five-sets format? Can he beat 3 out of this group of Soderling, Berdych, Murray, Djokovic and Nadal in three successive rounds?
By the time he reaches the Quarter finals, he would probably be battle- weary and his age would not let him bounce back as easily as in his younger years.
I suspect that the likes of Soderling and Berdych will stop him at the Quarters in at least one slam.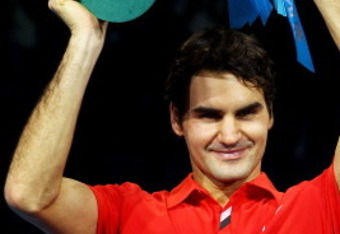 Djokovic or Murray will probably stop him at two of the semis should he reach any. If Djokovic should be in Federer's half at the French Open in 2011, the chances of Federer reaching this final at least are very low.
Even if he gets through to the finals, he will not be in the best condition after battling with at least two superstars in the Quarters and Semis. And he will probably face Nadal.
Does this mean Federer has little chance of winning a slam in 2011? No, he has a chance. A player of Federer's caliber will be a title contender at every Grand Slam tournament. But because of his age, he needs to be lucky to avoid too many bruising battles. So if the draw opens up for him, he should be able to take home a trophy. But, as there is more than the usual amount of luck required, I do not expect Federer to win more than one slam title.
Will Federer get back his number one ranking at least for a week? Had Federer been 30 or more, I would have said, almost impossible, based on the ranking history of superstars. Only Agassi has held the number one ranking after 30 for a few weeks. None of the others could do it. But as Federer is 29, i.e. below 30, probability is not weighted too heavily against him, though it is low.
Djokovic has been consistent this year and his performance at the slams was QF, QF, SF and F. He is hugely talented and is slam material on hardcourts and on clay. As he would be in the good books of Nature, he has a very good chance to win a slam next year and also get the number 2 ranking.
Murray is also enormously talented but he is considered a headcase because of his inconsistent performances. His performance at the slams was F, 4th, SF, 3rd. However, his fans can take heart from his wins over Federer at the Toronto and Shanghai Finals after his losses in two Slam finals earlier ( AO this year and USO in 2008) despite enjoying a positive h2h. He showed he is a big threat to Nadal by his performance at the WTF semi-final this year. The year 2011, with Nature giving him the best, could well be Murray's breakthrough year with him winning a slam, probably at either AO or USO.
What about Del Potro? He has had a bad year with injury and missed most of the action because of surgery and rehab. Though he is now supposed to be fit, he needs to get matches under his belt and I suspect he maybe handicapped by the pychological fear of recurrence of serious injury. So, while in the later half of the year he maybe a formidable threat, I doubt that he will win any slam titles.
Rafael Nadal
will retain his number one ranking unless there is a repeat of injuries as in 2009. But, repeat of 2009 is a low probability event given that he has managed his schedule well this year.
Summary of predictions:
Nadal: At least 2: Likely 3.
Federer: Not more than 1
Djokovic,Murray: Both have a good chance to win 1 slam title.
Del Potro: Nil
Rafael Nadal will continue his dominance and be number one throughout 2011.
Courtesy:
Bleacher Report